Completely Revised and Updated Editions of Two Becoming One & Workbook are Here!
Note: Materials are typically shipped within 2 business days, and priority shipping can take 2-3 days to arrive. Please plan orders accordingly.
Two Becoming One Book (Completely Revised and Updated)
By Don and Sally Meredith with Roland and Tammy Martinez
This is the book that started the revolution in biblically-based Christian marriage enrichment programs. Don and Sally Meredith's groundbreaking Two Becoming One has transformed and strengthened hundreds of thousands of marriages over the past three decades. This resource is also included as part of the Two Becoming One Leader Kit. For couples wanting to get the most from the Two Becoming One study, we highly recommend reading this book along with the workbook.
Couples will learn:
How to eliminate sources of conflict
How to put Christ at the center of their marriage
The divine purpose of marriage
God's faith-based principles for oneness
How to build marital intimacy
How to move from a performance-based to a faith-based relationship
$14.99
Out of stock
Two Becoming One Workbook (Completely Revised and Updated)
By Don and Sally Meredith with Roland and Tammy Martinez
This exciting workbook is perfect to use in small groups or individual study. For eight weeks couples will journey together on the road to a more satisfying marriage. If your marriage is good and you'd like to make it even better, of if you think your marriage could use room for improvement, Two Becoming One is for you. The Two Becoming One workbook includes practical applications, discussion materials, prayers, memory verses, and more!
$13.99
Out of stock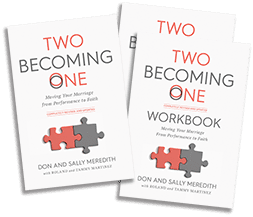 Two Becoming One Couple's Kit (Completely Revised and Updated)
This resource is designed for the couple that wants to go through the newly revised and updated Two Becoming One Study together rather than in a small group setting. The Couple's Kit gives a couple everything they need to learn the proven biblical concepts for building Christ-centered marriages.
The kit includes two (2) Workbooks and one (1) Book.
$42.00 
Out of stock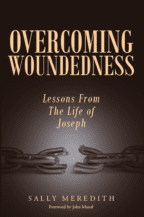 Overcoming Woundedness
By Sally Meredith
Everyone has been wounded. Some wounds recall childhood hurts; some are more recent. They may be personal through family or close friends, or they can be generated by workplace issues with a boss or coworker. No matter where they originate, woundedness is a human malady stemming from our brokenness and it makes us question the very purpose of the hurts we experience.
Come along with the author as she takes us into one man's journey of being wounded and how his story affects ours. Joseph was a man, just like us, who experienced the depth of painful circumstances and went on to a height he never dreamed. As we study his life, we learn that God was after his heart, just as He is after ours and mine. Where there is adversity, there is fear. But God desires to transform our fear into faith. He pursues us in the depths of pain in order to bring us to His glory. Even though our hearts have been wounded by people, we have a God who heals our wounds and, through the process of fellowship with Him, shows us His heart.
$14.00Add to cart