Written by: Will and Cindy Goff.
Marriage is designed by God and intended to be a life-long commitment between a man and woman. If asked on their wedding day, few brides or grooms would really expect their marriage would be anything less than it was on that first day. They sincerely meant the vow "to love and cherish from this day forward."
Why do so many marriages find themselves stuck in strife and negative cycles within a few years from their wedding day? How quickly can "love and cherish" turn into "frustration and resentment?" Marital decline is described in the book Two Becoming One in four stages: Romance, Reality, Resentment and Rebellion.
TRIALS ARE COMING
Life will bring trials of many kinds and threaten a marriage relationship. These trials can lead many to wonder how to have a strong marriage. When they come, we are faced with a choice. We can either dig deep and respond in faith, or we can respond by focusing on performance and blaming our spouse. Faith calls us to trust God and the Word of God, trust His plan and trust His provision…including with our spouse. The path from Romance to Rebellion is a series of choices based on your spouses' performance.
Prior to accepting Christ, I had read the scripture in James 1:2, "Consider it pure joy, my brothers and sisters, whenever you face trials of many kinds." I was unable to comprehend how that was humanly possible! In fact, it is basically impossible. Without Jesus Christ we can't face those trials with hope. All we can see is the reality in front of us and the pain associated with it.
OUR FAITH IS THE KEY
Our faith and trust in God allow us to see our marriage and spouse differently. We are called to trust God's work in their lives and see the partner He is building, not necessarily the partner they are right now.
By faith we can see our role in a healthy marriage is not to selfishly have all our needs and wants met. Our role is far more about God using our unconditional love, support and faith to shape our partner to be more like Jesus. At the same time the Lord uses this to shape and grow us to be more like Him too.
Jesus' power through the Holy Spirit enables us to persevere through the storms of life. The Holy Spirit, who binds and strengthens a marriage, is the third strand of our marital cord. This is described in Ecclesiastes 4: 12, "Though one may be overpowered, two can defend themselves. A cord of three strands is not easily broken."
When we, as couples, decide to serve God, accept Christ, and walk by faith, His teachings become our foundation for life. Joshua 24:14-15 became a key verse for both myself and my husband "But for me and my house we will serve the Lord."
THE NUMBERS DON'T LIE
One Oklahoma study followed up with couples who were on the brink of divorce, but remained married. They were asked how they perceived their marriages 10 years later. Those married seven years or less rated their marriage as strong and were glad they did not proceed with divorce.
The percentage increased to 95% satisfaction with couples married greater than seven years. Many couples realized when they "weathered the storm," walked by faith, and trusted God to guide them through the trials, they would never have to deal with the hidden results of divorce and instead have a successful marriage.
These hidden results include emotional trauma adjusting to a one parent family, possibly adjusting to a blended family, or remarriage and the logistics required to manage multiple households.
Other consequences are the pain, fear, and trauma inflicted on the kids. Their trust and faith in the family and in God get shaken. It also opens the door for lots of spiritual warfare, addictions, seeking false-fulfillment, and anger. These are just a few of the many reasons God clearly said in Matthew 19:6, "So they are no longer two, but one flesh. Therefore, what God has joined together, no person is to separate."
THE JOY OF MARRIAGE
Those couples who worked together through their trials reported their faith and marriage was strengthened. They were thankful that they would grow together as they aged and experienced the family changes. Those who had children rejoiced that they would share in the joys and trials of their children and grandchildren.
My husband and I believe one of the greatest honors in our marriage has been sharing God's vision and plan for marriage. We have utilized and taught these precepts presented in Two Becoming One. We've seen marriages strengthened and prospered over the years. They had to move from a marriage based on performance to a marriage based on faith. We truly believe God created marriage and He can make it work. 
---
Christian Family Life is a marriage discipleship ministry. We are here to offer resources and support no matter what condition your marriage is in. Our passion is to Build, Enrich, and Reconcile Marriages. Find out more at https://www.christianfamilylife.com/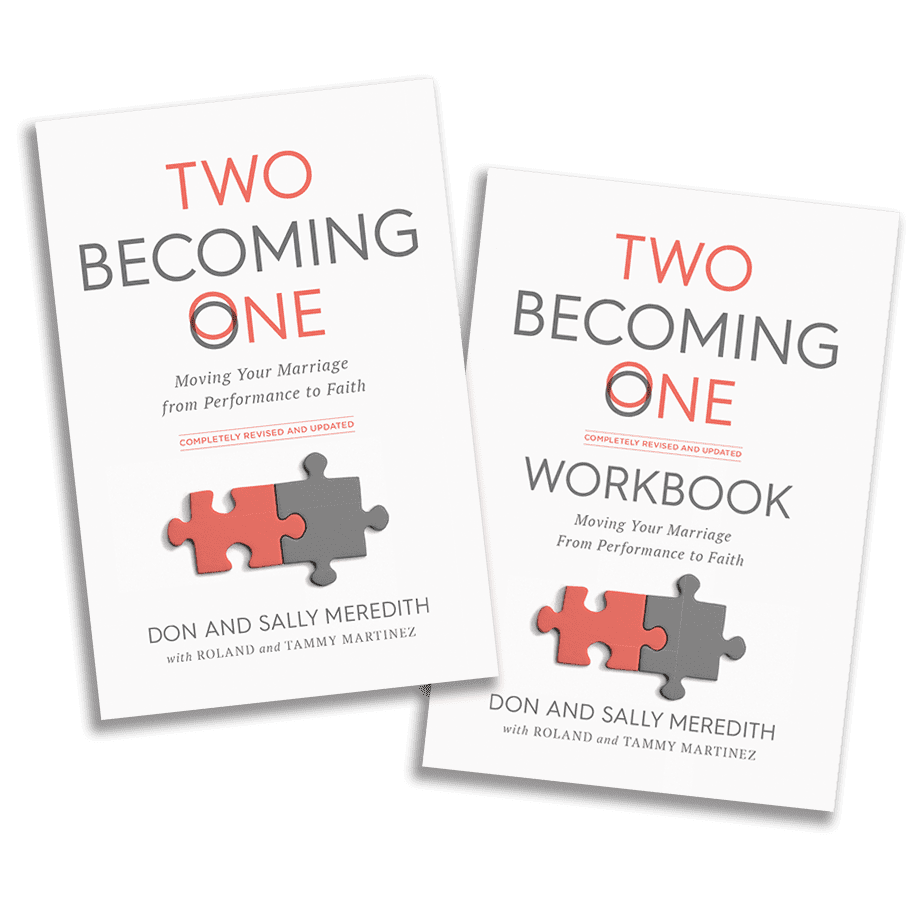 This book has helped thousands of couples like yours work through every marriage issue you can imagine. Grab a copy today!