Two Becoming One Book
By Don and Sally Meredith
This is the book that started the revolution in biblically-based Christian marriage enrichment programs. Don and Sally Meredith's groundbreaking Two Becoming One has transformed and strengthened hundreds of thousands of marriages over the past three decades. This resource is also included as part of the Two Becoming One Leader Kit. For couples wanting to get the most from the Two Becoming One study, we highly recommend reading this book along with the workbook.
Couples will learn:
How to eliminate sources of conflict
How to put Christ at the center of their marriage
The divine purpose of marriage
God's faith-based principles for oneness
How to build marital intimacy
How to move from a performance-based to a faith-based relationship
$14.95 Add to cart
Two Becoming One Workbook
By Don and Sally Meredith
This exciting workbook is perfect to use in small groups or individual study. For eight weeks couples will journey together on the road to a more satisfying marriage. If your marriage is good and you'd like to make it even better, of if you think your marriage could use room for improvement, Two Becoming One is for you. The Two Becoming One workbook includes practical applications, discussion materials, prayers, memory verses, and more!
$14.95 Add to cart
Two Becoming One Couple's Kit
This resource is designed for the couple that wants to go through the Two Becoming One Study together rather than in a small group setting. The Couple's Kit gives a couple everything they need to learn the proven biblical concepts for building Christ-centered marriages.
The kit includes two (2) Workbooks and one (1) Book.
$44.85 Add to cart
Two Becoming One Leader Guide
By Don and Sally Meredith
The Two Becoming One Leader Guide contains everything a leader needs to facilitate a Two Becoming One small group, the time-tested small group study created to help couples learn the biblical perspective on marriage and develop practical tools to build Christ-centered marriages.
This resource includes:
Notes & answers for questions in the Student Workbook
Practical instructions to help you lead
Requirements for leaders & students
Valuable advice for student orientation
Tips for conducting small group meetings
How to prepare each week
$7.00 Add to cart
Libro: 2 HaciÈndose 1
Por Don y Sally Meredith 
Este revolucionario libro fue el propulsor de muchos de los programas de enriquecimiento matrimonial basados en las Escrituras que existen hoy día. Durante las últimas tres décadas, cientos de miles de matrimonios han sido transformados y fortalecidos a través del programa "2 Haciéndose 1". El libro es parte del paquete de recursos para el discipulado matrimonial. Recomendamos este libro  junto al cuaderno de ejercicios.
Las parejas aprenderán:
Cómo tratar con los conflictos en el matrimonio

Cómo tener un matrimonio en el cual Cristo sea el centro de la unión
Con qué propósito Dios diseñó el matrimonio
Cuáles son los principios para la unión basada en la fe de acuerdo diseño divino.
Cómo conseguir la intimidad matrimonial
Cómo cambiar una relación basada en el rendimiento a una relación basada en la fe.
$14.95 Add to cart
Paquete de Parejas: 2 Haciéndose 1
Por Don y Sally Meredith
Este recurso está diseñado para las parejas que están cursando estudio "2 Haciéndose 1". Con el este paquete las parejas aprenderán los principios bíblicos probados para edificar un matrimonio centrado en Cristo.
El paquete incluye: Dos (2) Cuadernos de ejercicios y un (1) Libro.
$44.85 Add to cart
Cuaderno de Ejercicios: 2 Haciéndose 1
Por Don y Sally Meredith
El Cuaderno de Ejercicios: 2 Haciéndose 1 es la herramienta perfecta para trabajarla en grupos pequeños de estudio o en parejas individuales. El estudio consta de ocho semanas en las que las parejas viajarán juntos por el camino hacia un matrimonio más satisfactorio. Ya sea que estés disfrutando de un matrimonio saludable o que tu matrimonio esté atravesando por crisis,  "2 Haciéndose 1" es para ti. Recomendamos este cuaderno  junto al libro. 
El cuaderno de ejercicios 2 Haciéndose 1 incluye: aplicaciones prácticas, temas de conversación, oraciones, versículos de memorización…¡y más! 
$14.95 Add to cart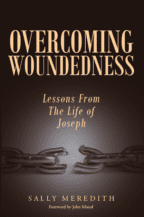 Overcoming Woundedness
By Sally Meredith
Everyone has been wounded. Some wounds recall childhood hurts; some are more recent. They may be personal through family or close friends, or they can be generated by workplace issues with a boss or coworker. No matter where they originate, woundedness is a human malady stemming from our brokenness and it makes us question the very purpose of the hurts we experience.
Come along with the author as she takes us into one man's journey of being wounded and how his story affects ours. Joseph was a man, just like us, who experienced the depth of painful circumstances and went on to a height he never dreamed. As we study his life, we learn that God was after his heart, just as He is after ours and mine. Where there is adversity, there is fear. But God desires to transform our fear into faith. He pursues us in the depths of pain in order to bring us to His glory. Even though our hearts have been wounded by people, we have a God who heals our wounds and, through the process of fellowship with Him, shows us His heart.
$14.00 Add to cart
Ruth: The Story is in the Names
By Sally Meredith
Women's Bible study. The book of Ruth comes from the Old Testament. The story I have laid out will become clear as we contemplate the names in the story and what they mean. The story unfolds as the names unfold, ending with the last name which defines our ultimate Redeemer, Jesus Christ. This is a timeless story of love, redemption, tragedy and joy. The circumstances could be events of any era, any age, and any family.
$10.00 Add to cart