Written by: Gio and Suzy Llerena.
It's hard to believe Suzy and I just celebrated 27 years of marriage! As we've looked back at those years, we've sat and discussed the good, the bad, and the ugly! We've learnd a lot about what it means to be husband and wife over the years.
We both came from homes that modeled healthy marriages. We dated for three and a half years and felt like we knew each other very well. As Christians, and by our parents' example, we both had a strong understanding that divorce would never be an option for us; but we did not realize the challenge that lay before us.
WILL I MEET "THE ONE?"
Suzy: I had never dated anyone before I met Gio. I longed to feel love and be in a relationship, but in God's design for my life, that had yet to come to fruition. I remember at the end of my freshman year of college, I had "the conversation" with God. You know, the one where you try and convince Him you are completely satisfied in Him as a single, young adult. And if nothing ever changed in my romantic life, I would be totally fine.
Then you sit back and wait for Him to bless you for your extreme act of selflessness (said with a tinge of sarcasm). That blessing, of course, would come in the form of a soulmate. So when, in my eyes, God did not come through for me as I thought He would, I was once again disappointed with my non-existent love life.
I did a lot of soul searching that summer and without trying to manipulate and coerce the Creator of all Things, I came to the realization God knows what's best for me, He wants what's best for me, and He is able to bring it to fruition in my life.
Gio: I on the other hand dated a few times in high school and didn't think much about the perfect person for me. I was not focused on anything regarding relationships other than just hanging out and being with someone. I never "consulted" with God regarding who my future spouse would be or what I should even begin praying through for this aspect of my life.
I truly was going through this process blindly and expecting that someone would show up and it would be a magical moment and I would just know. Unfortunately, at this point in my life I was not in a growing relationship with the Lord, and I did not include Him in my day to day. I really thought I would navigate all of this on my own and it would be exactly what I wanted. It was a very selfish time in my life.
WHEN GIO MET SUZY
Suzy: I met Gio that next year and we began a relationship that would culminate in marriage 3 ½ years later. I was familiar with the idea that marriage was a sacred commitment and something on which God had placed an extremely high value. However, I had no idea it would be as difficult as it was.
I entered this most sacred of relationships with the idea that since we were both believers we would simply join in holy matrimony, have a good Christian marriage, and everything would just work out … all the time. Boy was I in for a rude awakening!
Gio: Second semester of my freshman year I met Suzy and after spending some time together, I knew she was special and that I wanted to be with her. During my time in college I did start to grow in my faith. I dedicated my life to following the Lord and walking with Him. With these positive changes in my heart, I truly felt prepared to take my relationship with Suzy to the next level and asked her to marry me.
We were engaged for my last year of college and then after graduation, we married. Much like Suzy, I felt like we had great models in our parents, we were both growing believers and that this marriage thing would be easy. How could it not? We dated for over three years, and we loved each other.
NOT SO "HAPPILY EVER AFTER"
Suzy: "Easy" is most definitely NOT an adjective I would use to describe those first few years of marriage. I did not realize what a vital role the Holy Spirit needed to play in a good marriage. It took some time before I truly realized the importance of inviting the Holy Spirit in to help determine the spiritual atmosphere in our home.
It was a daily surrender of my own wishes and desires as well as a daily embracing of loving Gio with an agape (sacrificial) love. To this day, the Holy Spirit continues to reveal to me my personal need to rely on Him to fulfill God's purpose for marriage, and to love Gio with Faith Love.
Gio: Suzy and I didn't have a terrible marriage, but it seemed like often we were simply going through the motions and were missing something. As we mentioned before, divorce was never a topic of conversation, but we were definitely not thriving. At times we felt stuck.
I was investing my time and efforts in a lot of good things, but many of the issues came from me being focused on ministry, and not on her and strengthening what God had given us in marriage. One faith principle from the Two Becoming One book was that I was to accept Suzy as God's perfect provision for me. I never thought of her in that way before, and I was very convicted I was not giving her my best. The fact that Suzy is God's perfect gift for me got me thinking that the way I treat her, speak to her, love her is ultimately an act of worship to God.
WHERE ARE YOU?
As you read through this blog, you may be going through some of the same issues we were going through. You may believe divorce is not an option, but feel stuck. You're living parallel lives and every so often they collide, and it may or may not be pretty. You love each other, you just may not always like each other. Well, we believe God created marriage and He can make it work!
Here are a few truths to think about and ask yourself:
Are you inviting the Holy Spirit into your marriage daily? Do you depend on Him to empower you to love your spouse as Scripture calls you to? If not, take a moment right now and plead with Him to be present in your marriage … every single day.
Read through Genesis 2:18-25 and consider the process God took Adam through as He revealed His perfect provision in Eve. Would you receive your spouse as God's personal, perfect provision for you?
---
Christian Family Life is a marriage discipleship ministry. We are here to offer resources and support no matter what condition your marriage is in. Our passion is to Build, Enrich, and Reconcile Marriages. Find out more at https://www.christianfamilylife.com/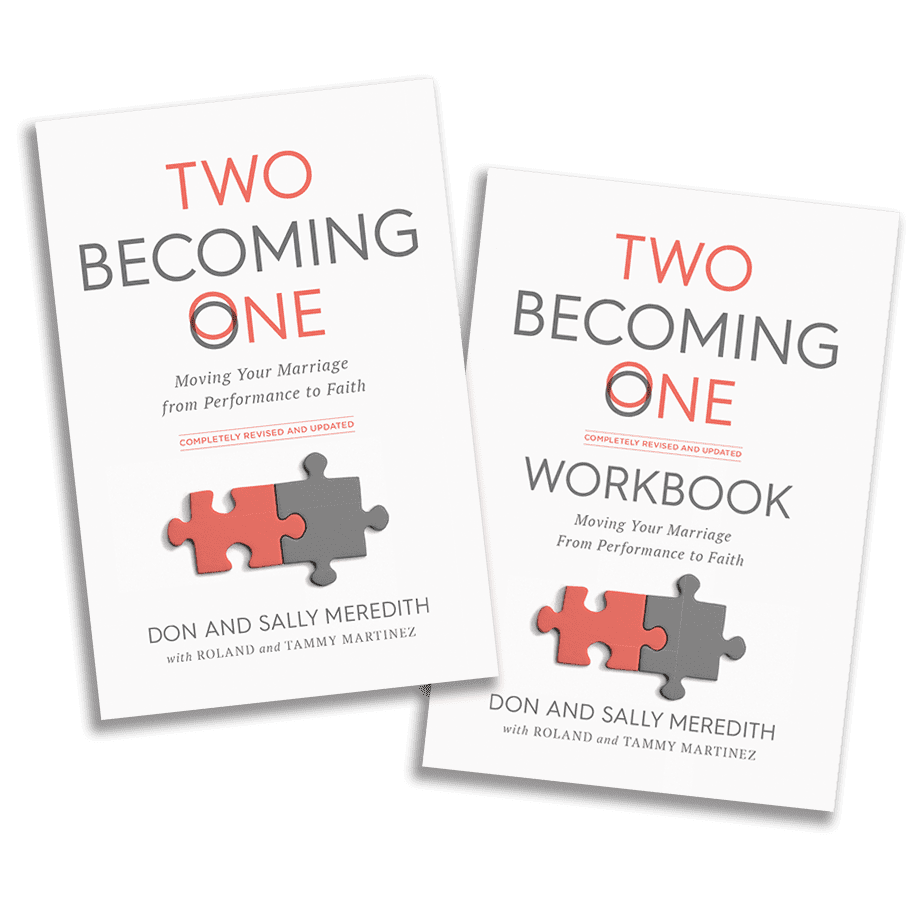 This book has helped thousands of couples like yours work through every marriage issue you can imagine. Grab a copy today!