Written by: Ryan Cook.
If you have ever built something, you know the importance of a strong foundation. Four years ago, God allowed us to build a new home. I remember having lengthy conversations with the builder about the design of the foundation. What type of concrete and how much rebar was going to be used?
On the morning they were pouring the foundation, I got my 4 and 7-year-old sons up and we drove to the house site. We watched the men pour load after load of concrete and smooth it out. As I stood there with my boys I told them Jesus' parable about the house built on rock vs. sand.
Jesus said in Matthew 7:24-27,
"Everyone then who hears these words of mine and does them will be like a wise man who built his house on the rock.  And the rain fell, and the floods came, and the winds blew and beat on that house, but it did not fall, because it had been founded on the rock. And everyone who hears these words of mine and does not do them will be like a foolish man who built his house on the sand. And the rain fell, and the floods came, and the winds blew and beat against that house, and it fell, and great was the fall of it."
Before the foundation was poured, our family took a Bible and highlighted verses throughout, and then we wrapped it in a plastic bag and placed it in the ground right before the foundation was poured. We wanted to LITERALLY build our house on the Word of God.
The foundation principle is that no matter what you build on top of it, however great or strong it might appear, it will only last if the foundation is strong. A weak foundation with a beautiful home will ultimately end in expensive repairs and loss of value.
Our marriages are exactly the same. The foundation of a good marriage will determine how strong and long-lasting the marriage itself is. If we build our marriage on sex, money, kids, convenience or performance, it will have a high probability of crumbling when the storms of life come at us.
On the other hand, if we build our marriage on the foundation of "faith love," and a commitment to walking with Jesus and following His words, then we will be able to endure any storm that comes and prove to be a successful marriage.
That is why the book Two Becoming One reaches all the way back to the beginning of creation in Genesis chapterfs 1 and 2. We want to explore God's original foundation principles for marriage and provide Christian marriage advice to help married couples thrive.
What do we find? Five foundational Faith Principles…all based on unconditional love, rather than conditional love, for our spouse.
#1 – By faith, we must commit ourselves to God's purposes for reflecting His image, reproducing a godly heritage, and reigning in the physical and spiritual realms. (Genesis 1:26-27)
#2 – By faith, we must receive our spouse from God as His personal provision for our individual needs. (Genesis 2:18-22)
#3 – By faith, we must commit to release the power of the Holy Spirit in our lives.(The Fall of Man in Genesis 3 requires daily filling and walking with the Holy Spirit. John 14:15-18, John 16:13-14, and many others)
#4 – By faith, we must submit to the only active and reactive biblical forces for change in marriage: agape love and blessing. (1 Corinthians 13:4-8, and 1 peter 3:8-9)
#5 – By faith, we must seek God's wisdom concerning our responsibilities of mutual love and respect. (Ephesians 5:22-33)
As you read through this list, ask yourself, "Is my marriage foundation made up of these principles based on God's Word?" If the answer is "kinda" or "maybe a couple of them" then I would dig a little deeper.
If your marriage is not built on these foundational faith principles it might explain some of the challenges or perpetual problems you've had. As the storms of life have come in (Covid-19, job loss, kids stuck at home in virtual learning, outside fear and stress) your marriage has taken some hits.
If you are not pursuing the power of the Holy Spirit, showing your spouse unconditional love, responding to conflict with love and blessing, and so on, then your marriage foundation has some cracks in it.
By God's grace, it's never too late to repair your foundation. Just like having to pier-and-beam a real house foundation, you can dig in and shore up the areas of your marriage that are not stable and learn how to build a strong foundation for a marriage.
Simply begin the process by asking Jesus to show you where the foundation cracks in your marriage are starting to form. Don't be afraid to have an honest conversation with your spouse about what cracks they see. Approach the process with humility, grace, fondness and admiration. Foundation work is not easy, but if your marriage is going to stand the test of time, it is absolutely critical!
Ultimately, you must have the same spiritual foundation; a personal relationship with Jesus. Both husband and wife MUST have a personal walk with Jesus to really make a solid foundation.
Paul writes in 1 Corinthians 3:10-12:
 According to the grace of God given to me, like a skilled master builder I laid a foundation, and someone else is building upon it. Let each one take care how he builds upon it. For no one can lay a foundation other than that which is laid, which is Jesus Christ.
With Jesus as our spiritual foundation, and a commitment to the Five Faith Principles, your marriage foundation will be stronger than ever! In the coming weeks we will address what it looks like to repair other aspects of your "marriage house" like the walls and roof.
---
Christian Family Life is a marriage discipleship ministry. We are here to offer resources and support no matter what condition your marriage is in. Our passion is to Build, Enrich, and Reconcile Marriages. Find out more at https://www.christianfamilylife.com/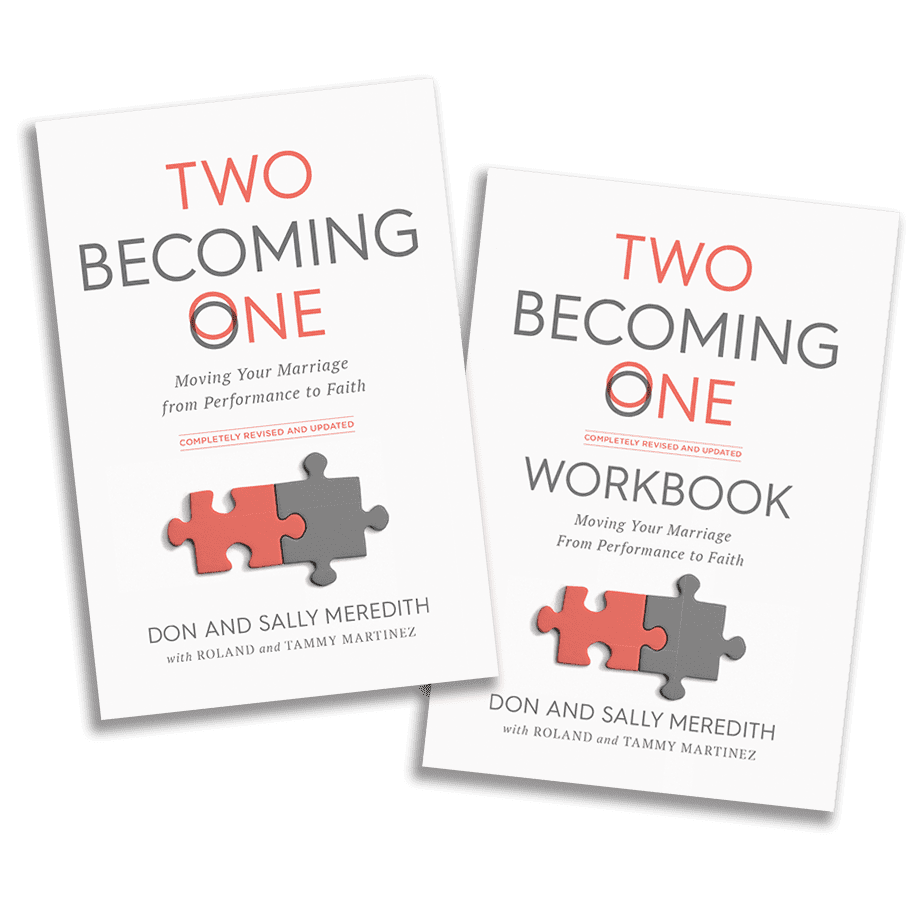 This book has helped thousands of couples like yours work through every marriage issue you can imagine.
Grab a copy today!