Written by Ryan and Ashlie Cook.
The Founders of Christian Family Life, Don and Sally Meredith, began 50 years ago with a simple question, "If God created marriage, can He make it work?" I am sure many of you have wrestled with that same question. In those moments of trial or challenge, when communication is not going well with your spouse, you likely wonder that very thing.
Over the last 50 years God has turned that same question into a powerful and definitive statement, "God created marriage and He CAN make it work!" Over the decades, literally hundreds of thousands of couples just like you have embraced the Faith Principles of marriage we find in Genesis 1 & 2. The exact same question has turned into a celebration statement for them, too.
As we reflect back on the last year, there are several questions that we can ask ourselves to see how we did in our marriage. We can embrace the power of a question and allow it to challenge us. By God's grace we can turn these same questions into statements as well.
Here are 10 questions to ask yourself and your spouse as you look back on the last year:
1.) Do you see your spouse as God's unique provision for your exact needs?
Faith Principle #2 says, "By faith we must receive our spouse from God as His personal provision for our individual needs." Go back and read Genesis 2:18-24 and see how God provided the perfect spouse for Adam and Eve.
2.) Did you love your spouse unconditionally this past year?
Faith Principle #4 says, "By Faith, we must submit to the only active and reactive biblical forces for change in marriage: agape love and blessing." Unconditional love is critical for oneness in marriage.
3.) Did you bless your spouse in ways they could receive?
See the above 'Faith Principle.' Blessings can range from gifts to encouraging words to a simple thank you. Seek to bless your spouse daily and it will reap great rewards!
4.) Did you forgive your spouse for the times they hurt you this year?
The only way to move forward is offering forgiveness when our spouse has wronged us. Colossians 3:12-13 says, "Put on then, as God's chosen ones, holy and beloved, compassionate hearts, kindness, humility, meekness, and patience, bearing with one another and, if one has a complaint against another, forgiving each other; as the Lord has forgiven you, so you also must forgive."
5.) Did you make a fun memory in your marriage this year?
You have to keep 'dating' each other and make fun memories. Hopefully this can happen more than once a year!
6.) Did you move toward 'Oneness' with your spouse emotionally, spiritually, and physically this year?
This is the ultimate goal of marriage as set out in Genesis 2:24, "Therefore a man shall leave his father and his mother and hold fast to his wife, and they shall become one flesh." Identify the category above that needs the most attention and be intentional in that area to pursue oneness.
7.) Did you resolve conflicts with humility, repentance and grace? 
Trials and conflicts are 'Roof Issues' in the marriage. If your foundation and walls are strong then it's much easier to resolve conflicts with humility and grace. Remember - You Spouse is NOT Your Enemy!
8.) Did you express love to your spouse with frequent intimacy?
Chapter 12 of Two Becoming One provides some great insights into healthy and biblical sex in marriage. Remember 1 Corinthians 7:5 says, "Do not deprive one another, except perhaps by agreement for a limited time, that you may devote yourselves to prayer; but then come together again, so that Satan may not tempt you because of your lack of self-control."
9.) Did you rely on and surrender more to the leadership of the Holy Spirit this year?
Faith Principle #3 says, "By Faith we must daily commit to release the Power of the Holy Spirit in our lives." This is a crucial aspect of any healthy marriage. Only by the power of the Holy Spirit can you accomplish your role as a godly husband or wife.
10.) Overall, did the last year bring you closer together or further apart?
Give your marriage on overall number grade from 1-10. 1 being really far apart and 10 being closer than you've ever been. Discuss how both of you answered and identify ways to work toward a 10 in 2022!
Each of these 10 questions are directly connected to the principles outlined in the book, Two Becoming One. We strongly encourage you to spend time with your spouse answering the above questions. If you haven't yet, grab a copy of the book and begin to learn how to grow together in your marriage. If you need help, please reach out to us! Remember, "God created marriage and He CAN make it work!"
---
Christian Family Life is a marriage discipleship ministry. We are here to offer resources and support no matter what condition your marriage is in. Our passion is to Build, Enrich, and Reconcile Marriages. Find out more at https://www.christianfamilylife.com/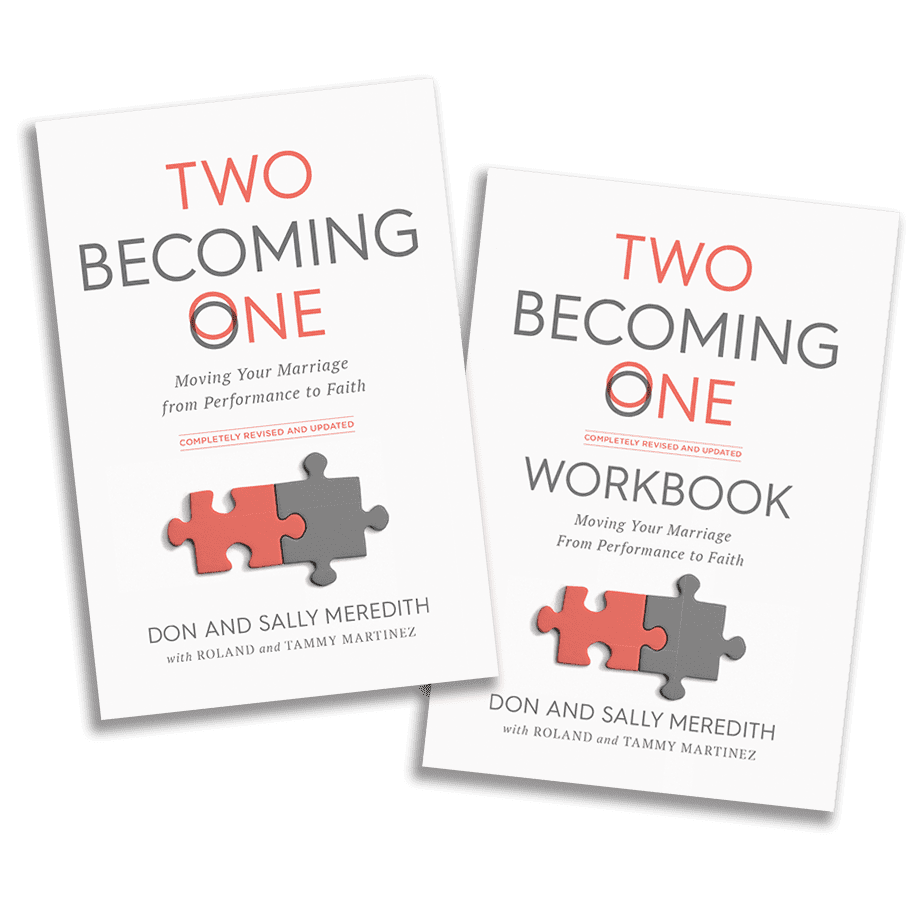 This book has helped thousands of couples like yours work through every marriage issue you can imagine. Grab a copy today!