Written by: Ryan and Ashlie Cook.
If you've been around Church for a while, or read portions of the Bible, you've probably come across the word "submission." There's a good chance there's a part of you, even if the smallest amount, recoils at the word. Perhaps that word "submission" makes your imagination go wild with thoughts ranging from slavery to June Cleaver. You at least know of June from Leave it to Beaver, right? Here are some ways to identify June Cleaver:
She is nicely dressed up for the day with make-up and jewelry on all the time.
Even though she stays at home she looks like she could lead any corporate meeting.
The house is perfectly cleaned, the meals are prepared with love, and she always knows how to handle the situation with her kids.
When her husband comes home he's greeted with love, tenderness, and support. He only needs to sit and read the paper or watch TV while the perfect wife takes care of all the evening responsibilities.
Her kids and husband adore her and she is always tender and kind in all her responses, all while looking flawless and with three course meals on the table.
Anyone reading this, husband or wife, knows just how absurd this list truly is. There is no way in this day and age these things are achievable. Given the last year of the pandemic, we're all lucky to still be sane. And if we're honest, most of us wore the same pair of clothes 3-4 days in a row….
God Had Different Plans
I grew up as a pretty independent young woman. The hard circumstances I was forced to deal with at a young age caused me to have to mature quickly and become pretty self-sufficient. I was definitely not the girl who wanted to grow up and have babies. As much as I wanted to be loved, I never expected a man to take care of me. I could do that…or so I thought.
Fast forward to college, where I was thankfully discipled and grew greatly in my faith. I learned how to deal with generational strongholds and forgiveness, among other important foundations of my faith. Then the Lord clearly revealed the man who would be my husband. And before I knew it, I was getting married, which also meant I was faced with what it meant to be a godly wife.
What was a wife supposed to do? What was a wife supposed to be like? Was I really called to be a doormat? What does the Bible say about submission? These questions were a constant theme as we prepared for marriage, and honestly still come up today after 19 years of marriage. To answer these questions, we need to look to the Bible and not modern-day culture. If you can't tell by now, culture and God's design are often very different.
Which Path to Follow?
Culture calls for women to break free of the shackles of traditional roles. To be independent and climb the corporate ladder. To fight for equality with men on every level, and to not be burdened by the simplicity and insignificance of a traditional family model.
Like everything the world offers, it has the appearance of wisdom and satisfaction, but it never truly works. Never truly satisfies. There're always hidden costs involved in the ways of the world and culture. Of course, women can be successful leaders, business women, & juggle many roles, but if it is not God led and designed, it will leave her empty.
God has called women throughout history to play key parts in His plans, to do big things, to be history makers. He was the first to actually bestow equality on women and treat them with respect. So why would He expect less in our own marriages?
Remember our focus here at Christian Family Life is returning to God's original intent for marriage in Genesis 1 and 2. God created marriage and purposefully designed the roles of the husband and the wife. Our Genesis 3 reality of sin, distortion and role-confusion is a poor model for what it's supposed to look like.
What Does the Bible Say?
Let's look to passages in the Bible to get a glimpse of God's design for women. I want to be clear these verses are not necessarily prescriptive, but rather descriptive of the best ways to be a godly wife and mother.
Proverbs 31
The woman in this passage amazes me! Here are a few attributes of this super-woman:
vs. 10 - She's precious and valuable
vs. 11 - Her husband trusts her and he is blessed
vs. 12-19, 24 - She's a hard worker for her family & household, as well as an entrepreneur
vs. 20 - She helps those in need
vs. 25-26 - She's strong, kind, and wise
vs. 28 - She is blessed by her children and husband
Does that sound like a doormat? Quite the opposite. She is valued, blessed, important, and significant -- a leader in her home and community. Whether you are a working mom, stay-at-home mom, not-yet-a-mom, or whatever you are, you ARE valuable!
Let's examine another verse from Ephesians 5:22-33:
Wives, submit to your own husbands, as to the Lord. For the husband is the head of the wife even as Christ is the head of the church, his body, and is himself its Savior. Now as the church submits to Christ, so also wives should submit in everything to their husbands. Husbands, love your wives, as Christ loved the church and gave himself up for her, that he might sanctify her, having cleansed her by the washing of water with the word. 
Here we see the call for wives to "submit" to their husbands, but the verse goes further and says to "submit in everything to their husbands." The example we are given is the submission of the church to the authority of Jesus. This is done by faith, trusting Jesus knows what we need and what is best.
We see a biblical order at work. God's design is for women to submit themselves to their husbands as he is submitting, following, loving, and listening to the Lord Jesus. Right after the submit verse is a call for these same husbands to love their wives "as Christ loved the church and gave himself up for her."
Loving in a complete, unconditional and sacrificial way -- Do you see the healthy circle of it all? I'm called to submit to my husband's leadership while he is called to submit to Christ, and even be willing to die for me.
Submission does not mean I can't have an opinion, that we don't discuss matters, or that I don't matter. Quite the opposite. I find that as I show respect to my husband, he seeks my opinion, trusts my decisions, therefore making me feel even more valued.
It Takes Faith
The principles of faith-love we discuss in Two Becoming One apply to every aspect of the marriage relationship, trusting by faith the spouse you have is God's perfect provision for you -- despite their flaws. Husbands are called to love their wives by faith. Wives are called to submit to their husbands by faith.
The peace and blessing that comes from God when we rest in our roles, by faith is undeniable. It may take time to build new habits and respond to each other in different ways, but in the end following God's design for marriage roles truly is a blessing.
If you're not doing it already, we highly suggest a prayer strategy over your spouse and family. Our battle is not against flesh and blood but against the spiritual forces of evil (Ephesians 6:12). To have a successful marriage you must not only surrender to the Lord's perfect design, but you must also fight in the spiritual realm. There are lots of resources out there but one of our favorites is For the Family by Sylvia Gunter. The prayer of the righteous is powerful and effective (James 5:16).
---
Christian Family Life is a marriage discipleship ministry. We are here to offer resources and support no matter what condition your marriage is in. Our passion is to Build, Enrich, and Reconcile Marriages. Find out more at https://www.christianfamilylife.com/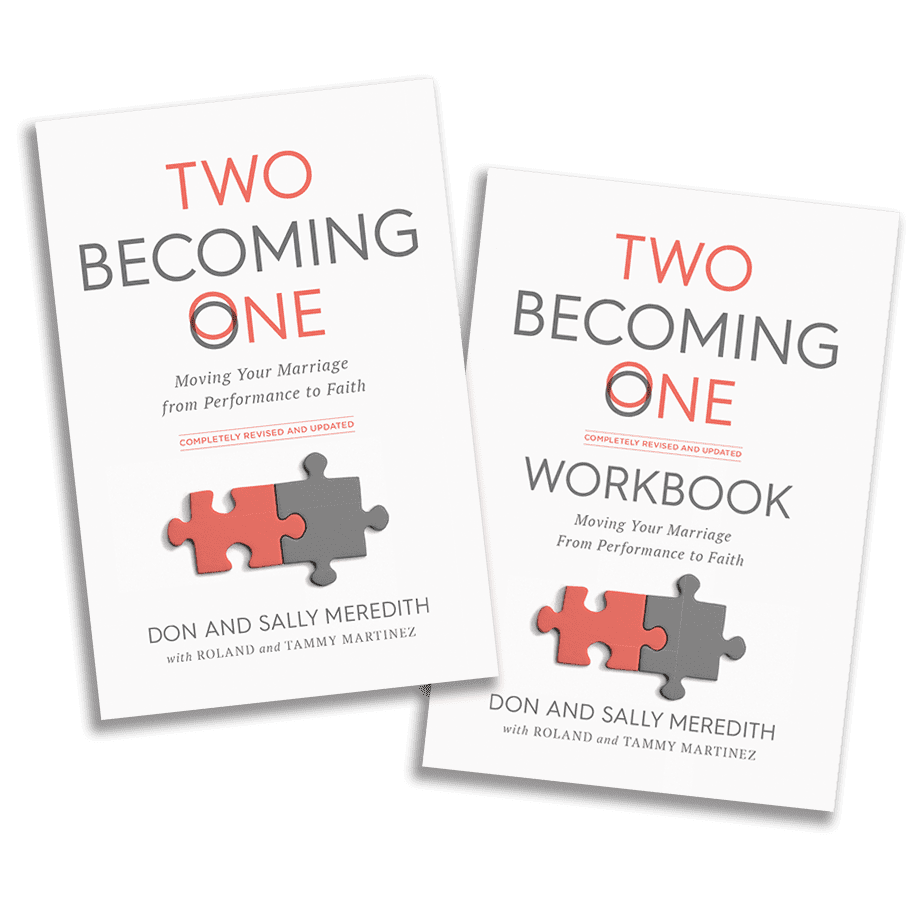 This book has helped thousands of couples like yours work through every marriage issue you can imagine. Grab a copy today!