Written by: Ryan and Ashlie Cook.
A fairly famous song once asked the question, "What's love got to do with it?" (if you know the song you're probably singing it in your head right now). I am confident that all of us have been impacted by the cultural diluting of the very word "love."
We say we "love" all kinds of things from ice cream, to movies, to electronics. There seems to be an ongoing attempt to cheapen the word and its true meaning. If you can love your bed than what makes it special when you tell your spouse that you love them, too. According to the same song we referenced above, love is "just a second-hand emotion."
Love is a Big Deal
Well, the Bible has a different perspective on love. One that we should all remember because it greatly impacts our own marriages and families. In 1 Corinthians 13:12-13 it says, "But now faith, hope, and love remain, these three; but the greatest of these is love." So love beats out faith and hope. That's a powerful emphasis.
Jesus tells us the two greatest commandments we need to follow both revolve around love. Matthew 22:36-40 says, "Teacher, which is the great commandment in the Law?" And He (Jesus) said to him, "'You shall love the Lord your God with all your heart, and with all your soul, and with all your mind.' This is the great and foremost commandment. The second is like it, 'You shall love your neighbor as yourself.' Upon these two commandments hang the whole Law and the Prophets."
We also find out that it was actually love that motivated God to send His only son Jesus to rescue us. John 3:16, "For God so loved the world, that He gave His only Son, so that everyone who believes in Him will not perish, but have eternal life."
What Type of Love?
So, it's clear that love is a really important thing! It would stand to reason that we better understand what type of love the Bible is talking about. All too often we take our understanding of a word and apply it to the meaning in the Bible verses. And how do most of us understand 'love'? We understand it based on performance.
We base on our emotions and feelings of love around how something performs. "I love my car" because it drives well and hasn't broken down yet. The minute the check-engine light comes on our love can turn to frustration or hate in a hurry.
We can say "I love my job" when things are going great and you are performing well. That love can turn into disappointment, frustration and hate when things get tough or that co-worker you don't like keeps bothering you. It's all based on performance.
We need to realize that the love God has for us, the love that compelled Him to send His son Jesus, the love He asks us to show our spouses, is NOT based on performance. It is an unconditional love based on faith. This kind of love is VERY different from the way the world teaches us how to love. So, it's understandable when we struggle to show 'Faith-Love' to our spouse or family.
This is True Love
Chapter 7 of the book, Two Becoming One, covers Faith Principle #4: By faith, we must submit to the only active and reactive biblical forces for change in marriage: agape love and blessing.
Not sure if you caught it, but the only way to truly bring about change in someone is to bless them and show them unconditional love. This is so powerful and so very challenging to grasp.
Look again at God's model of love for us. Romans 5:8, "But God demonstrates His own love toward us, in that while we were still sinners, Christ died for us." We did not meet the condition of being lovable. We were hostile toward God and breaking His laws, yet He chose to love us based on His own covenant commitment to do so.
"Agape (unconditional) love can be measured only by the sacrificial action and commitment of the giver. It is dependent upon and directed by God. Agape does not change as feelings change. It does not place a perceived value on the object. This is the kind of love we verbalize when we say our marriage vows – a never-ending commitment. There are no conditions or performance required for the spouse to receive this ongoing, committed love."

Two Becoming One, pg. 84.
If you are going to see real progress in your marriage you must begin to realize that the type of love you committed to on your wedding day is NOT the cheap "performance love" of the world. The love you vowed to show your spouse is the deep, covenant, unconditional love God modeled for us. This is the 'True Love' God is calling you to show you spouse.
News Flash – your spouse is going to mess up. They're going to wound you and disappoint you and get things wrong. News Flash – so are you! You both need unconditional love. True oneness with your spouse will only come when you choose to walk by faith and, by the power of the Holy Spirit, show your spouse unconditional love.  
---
Christian Family Life is a marriage discipleship ministry. We are here to offer resources and support no matter what condition your marriage is in. Our passion is to Build, Enrich, and Reconcile Marriages. Find out more at https://www.christianfamilylife.com/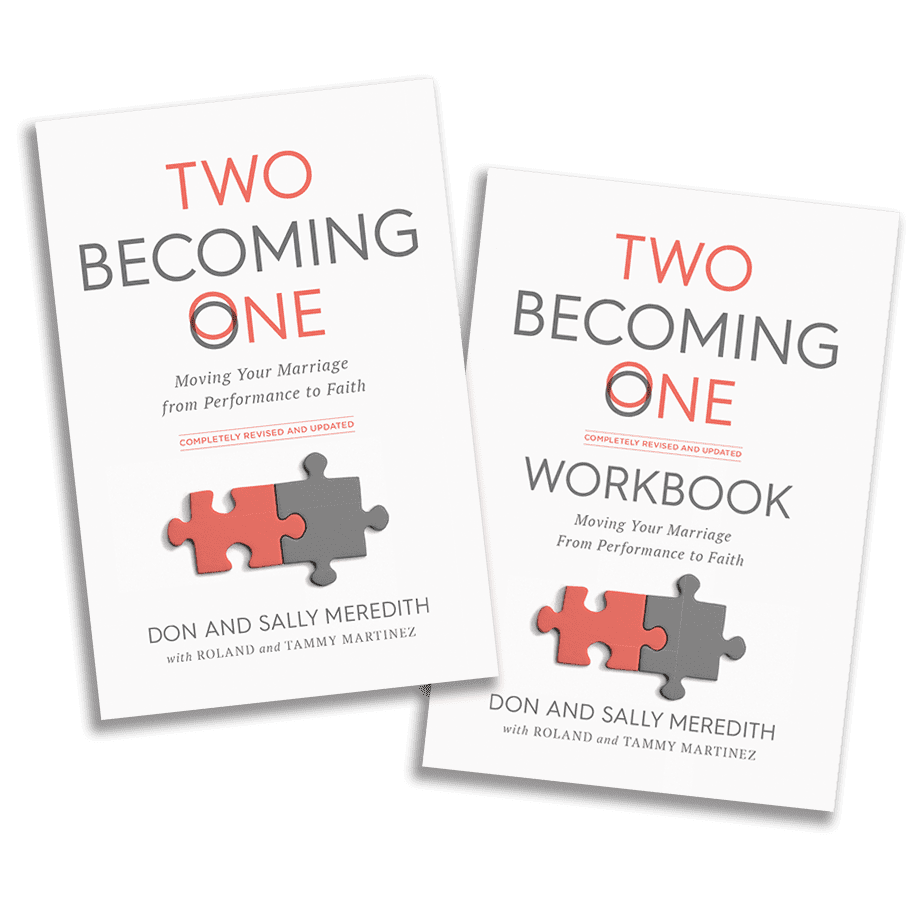 This book has helped thousands of couples like yours work through every marriage issue you can imagine. Grab a copy today!