Written by: Ryan and Ashlie Cook.
If you've been married for any period of time you have experienced the common ebbs and flows of wedded bliss. There're always good times when things are going well, life is fun and marriage is a blast. Especially in the beginning, most couples experience the 'Romance' phase of marriage. This is defined as "a feeling of excitement and mystery associated with love."
Most couples also experience the second phase of marriage called 'Reality'. This is defined as "the world or stage of things as they actually exist, as opposed to an idealistic or notional idea of them." When the honeymoon is over and jobs begin again and sickness happens or the occasional dispute arises, reality comes knocking.
Reality Check
The reality phase can't be helped. The Bible says in 1 Corinthians 7:28, "But if you do marry, you have not sinned, and if a betrothed woman marries, she has not sinned. Yet those who marry will have worldly troubles, and I would spare you that."
A big part of a successful marriage is learning to navigate the challenges and realities of life in a way that honors the Lord and loves and respects your spouse. Every healthy marriage should try to live in the tension of 'Romance' and 'Reality'. It can't be romance all the time, but you need to visit as often as you can.
The 3rd and 4th phases of marriage are where things get dicey. 'Resentment' and 'Rebellion' are experienced in marriage far too often. Resentment is defined as "bitter indignation at having been treated unfairly." This phase happens when we are not operating in our marriage with the power and presence of the Holy Spirit.
The presence of the Holy Spirit empowers us to love our spouses unconditionally. We produce the fruits of the Spirit, like patience, joy, gentleness, and kindness. However, if we choose to walk in the flesh then it becomes easy to build up resentment toward our spouse. We don't feel loved, respected and are treated with anger, bitterness, contempt and unforgiveness.
The Danger Zone
The enemy of God loves to sow these fruits in our marriage. It causes division and 'two-ness' rather than couples moving toward 'oneness.' When this builds up over and over with lots of negative and 'fleshly' interactions then couples move into 'Rebellion.' This is defined as "an act of violence or open resistance."
What marriages often experience is what we refer to as the "The Cycle of Unmet Expectations." It's easy to see from the diagram how disappointment leads to anger, silence, and an increased desire for your spouse to 'perform' better. When they fail, which they inevitably will, we get increasingly distant and can harden our hearts toward our spouse.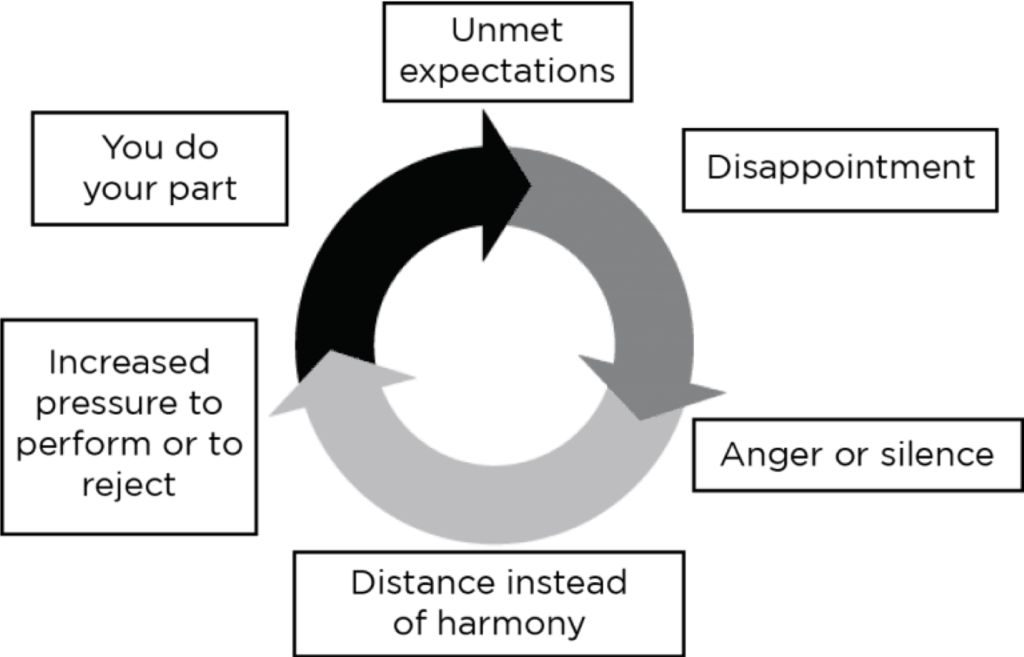 Turning Things Around
So a big question is how can your reverse direction and move back from 'Resentment' and 'Rebellion' to the 'Romance' and 'Reality' stages of marriage? Is it even possible to turn things around when they've gotten so difficult? By God's grace, and the power of the Holy Spirit, it is possible and there is hope.
Here are a few key steps you must take in order to turn your marriage around.
1.) Own your part and apologize. If you want to see a breakthrough you must repent of the things you've done to wound your spouse. Even if your spouse doesn't see the ways they've wounded you, one of you must lead. This takes a great deal of humility and being willing to walk by faith. Asking for forgiveness is a major step toward restoring romance in a marriage.
2.) Walk by the Spirit. You must grow your personal time with the Lord. If you chose to walk by the flesh, according to Galatians 5, you will have no hope of seeing your marriage restored. Again, this has to be done by faith, trusting that the Lord will move on your behalf and bring conviction to your spouse. One of you must lead out and seek to bear the fruits of the Spirit in the bond of peace.
3.) Pray. This is closely connected to #2. We must pray in the Spirit and ask the Lord to fight our battles. Every breakthrough in a situation comes through the Lord's work. Our prayers are part of God's strategy for releasing His Kingdom into our homes and marriages. Your prayer life plays major role in stepping back from the 'Rebellious' and 'Resentment' phases of marriage.
4.) Love and Blessing. You definitely should check out this previous blog about blessing your spouse. It will go mush more in-depth than we can cover here. (Blog on Blessings) The biggest thing is that in order to love your spouse unconditionally and bless them you can ONLY do that by faith through the power of the Holy Spirit.
In order to see your marriage turn around and move back toward 'Romance' one of you must be willing to engage in the four steps above. Know that it is not an easy path and it will take time. My wife and I have been working at it for 7+ years. We can promise you that it is possible to see 'Romance' restored. God designed your marriage and He has given you everything you need to make it work. You simply have to learn how to use the power and tools He's given.  
---
Christian Family Life is a marriage discipleship ministry. We are here to offer resources and support no matter what condition your marriage is in. Our passion is to Build, Enrich, and Reconcile Marriages. Find out more at https://www.christianfamilylife.com/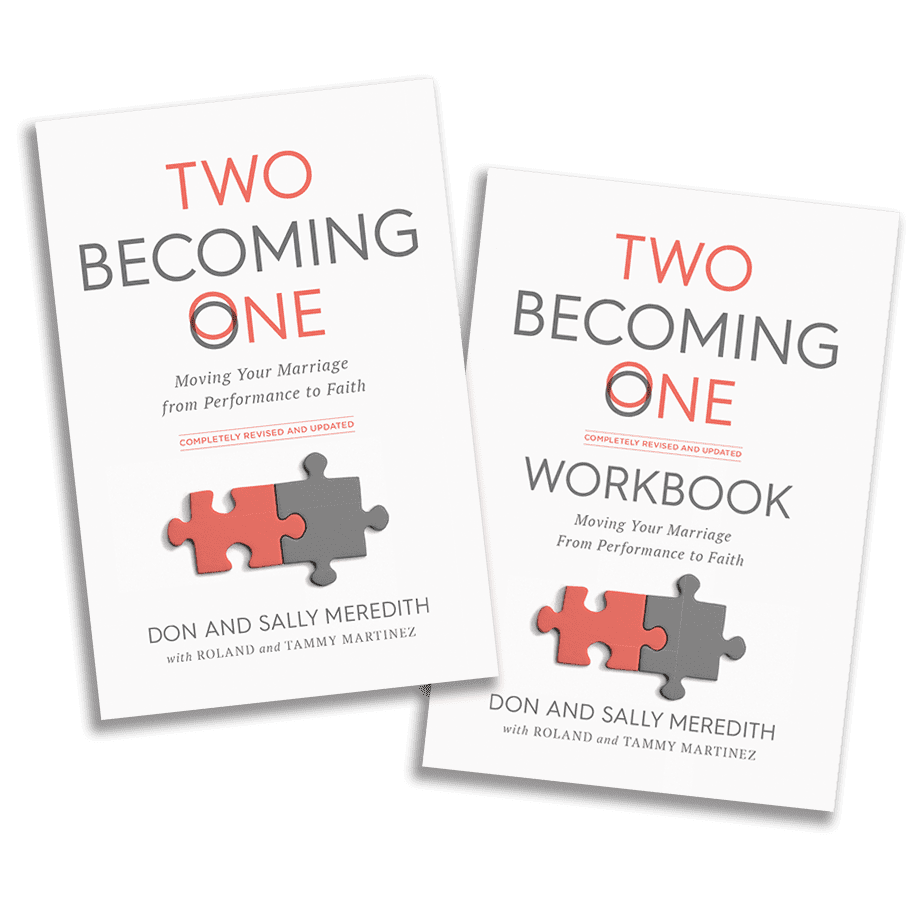 This book has helped thousands of couples like yours work through every marriage issue you can imagine. Grab a copy today!