By Ryan and Ashlie Cook.
We all appreciate a good 'do-over'. The chance to start again and correct a few mistakes from the past in order to make things better in the present. How many movies and TV shows are based on the concept of time travel used to fix past mistakes? The entire 'Back To The Future' franchise, the final 'End Game' movie in the Marvel Avengers series, the old TV show 'Quantum Leap' – go back in time to fix a wrong and restore the future.
A desire for a 'do-over' can show up in simple things, too. Say you get going on a project like building Ikea furniture; make some progress and then realize you made a mistake on step 5, but you've already reached step 26 and now you have to start over. Or even the concept of a 'mulligan' in golf; make a bad swing and you get a 'do-over' and can swing again with no penalty.
Or imagine you've been doing life and marriage for many years and things just keep struggling along. You've not been happy or content for a while. Things aren't terrible, but they haven't been good either. Then you attend a marriage event or read a book and realize a couple key things you haven't been doing for years. Pain, frustration, anger, and despair can quickly arise.
You think 'If only I could go back and start over, I could fix this in the past before it became a huge issue in the future.'
The Wrong Way to Start Over
The world will tell you that the best way to get a fresh start is to just get something new. The only way to be happy or find joy is toss away the old and start over. It's too much work to fix the old. If the car or vacuum or phone breaks down it's often preferable to just get a new one rather than fix the current one. If things are rough in your marriage just end things with your current spouse and go start over.
'Irreconcilable differences' is the most often cited cause for a divorce. Simply put, it just became too hard to work on the current marriage, so let's simply scrap it and go start over with someone else. You can see our selfish, self-centered, consumer mentality shining through in all these examples. But is this really the best way?
It's true that we don't have access to time travel…yet…so it's impossible to fix the past and correct old mistakes before we reap the consequences in the future. However, I would offer up a solution that is better than time travel. There is a path forward that allows for a fresh start that doesn't involve tossing out the old.
The Better Way to Start Fresh
I'm talking about forgiveness. Now to be clear, forgiveness does imply some level of repentance. I know that in some really difficult situations a person must work through forgiveness toward someone else without the other person ever acknowledging their wrong and repenting. This is very difficult, but by God's grace and the power of the Holy Spirit it's possible.
But when it comes to your marriage, we have seen miracle after miracle and true healing and restoration take place when a spouse genuinely admits their past faults and failures and the other spouse offers forgiveness. It doesn't erase the sins of the past, but it allows for a fresh start and a way forward toward a better future. And in truth, the couple has learned some things along the way and are actually stronger as a result.
We see this incredible statement by King Jesus in Revelation 21:5, "And he who was seated on the throne said, "Behold, I am making all things new." Also he said, "Write this down, for these words are trustworthy and true."
It's a subtle thing, but Jesus doesn't say, "I am making new things." Instead, He is restoring, healing, refreshing and making all things new again. Jesus wants to do this type of work right now, even before we get to the end. Jesus can give anyone and everyone a fresh start.
The Gospel is a 'Do Over'
That's the whole idea of the Gospel…the good news…that we celebrate between Jesus' arrival on the earth at Christmas and His death and resurrection at Easter. Jesus offers the gift of a fresh start. You can be forgiven of ALL your past sins and wrongs, they are not counted against you anymore, and you can begin again. All this is done with God loving us unconditionally and offering more forgiveness if we happen to mess up again…which we will.
Look at what Paul writes regarding the work of God in our lives. Colossians 1:12-14, "giving thanks to the Father, who has qualified you to share in the inheritance of the saints in light. He has delivered us from the domain of darkness and transferred us to the kingdom of his beloved Son (Jesus), in whom we have redemption, the forgiveness of sins."
As a result of this wonderful forgiveness and a chance for a fresh start, Paul says we are to offer each other the same forgiveness. Colossians 3:12-14, "Put on then, as God's chosen ones, holy and beloved, compassionate hearts, kindness, humility, meekness, and patience, bearing with one another and, if one has a complaint against another, forgiving each other; as the Lord has forgiven you, so you also must forgive. And above all these put on love, which binds everything together in perfect harmony."
If you are looking for a fresh start in life then run to Jesus and receive His love and forgiveness. If you are praying for a 'do-over' in your marriage then offer unconditional love and forgiveness to your spouse. Repent of the wrongs you have committed and patiently wait for your spouse's repentance. This is by far the best way because it is designed and empowered by God.
We can promise the easy way out, to throw away the old and find something new, will be the decision you will want a 'do-over' on in the future. You can get a lot of tools and resources from our book Two Becoming One. It offers great insights into God's design for marriage and His path forward to a wonderful legacy. There is always hope for a fresh start!
---
Christian Family Life is a marriage discipleship ministry. We are here to offer resources and support no matter what condition your marriage is in. Our passion is to Build, Enrich, and Reconcile Marriages. Find out more at https://www.christianfamilylife.com/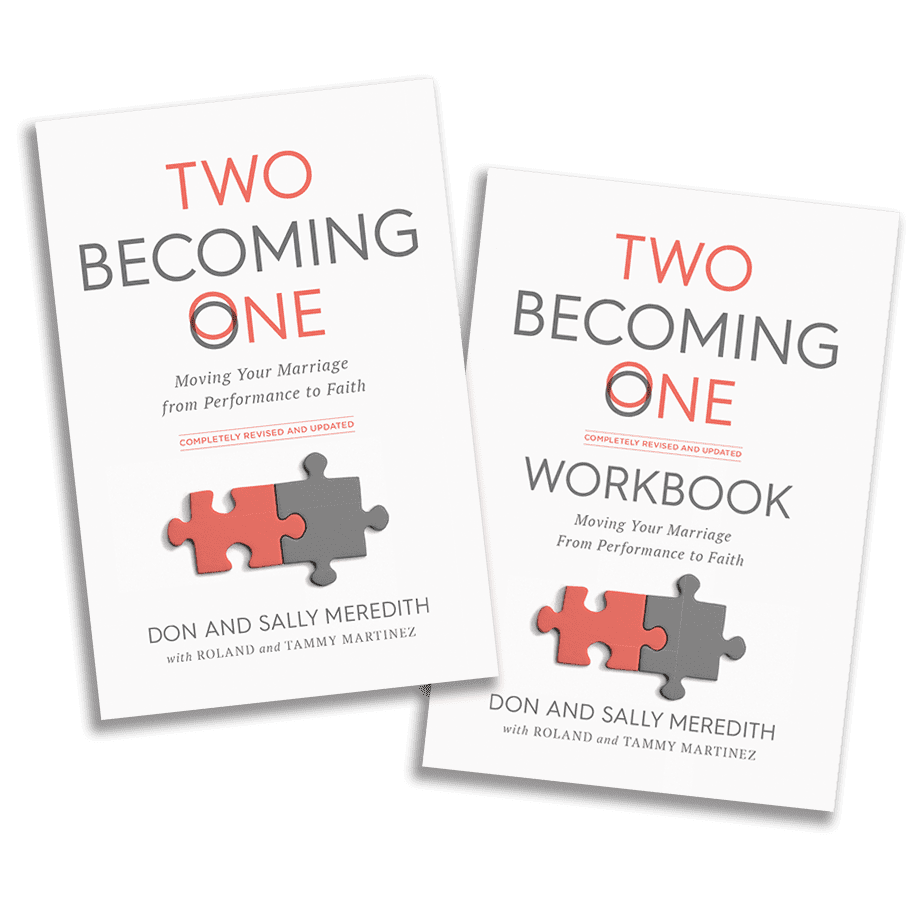 This book has helped thousands of couples like yours work through every marriage issue you can imagine. Grab a copy today!